GOP owes charter schools some tough love
By Terry Ryan
Since their inception in 1997, charter schools have been at the center of some of the most politically contentious debates in Ohio. The charter debate too often has been characterized by two competing camps. One side typically has been organized labor (the teacher unions), many Democrats, or citizens uninformed about school choice but believing it represents a threat to "public schools." The other side tends to be business –represented by large profit-making school management companies, free-market oriented individuals (often Republicans), as well as activists of all political stripes who advocate for educational equity.
Interests on both sides of the debate have poured money into political campaigns over the years and have treated the politics of charter schools as a zero-sum game in which a gain by either side must come at the expense of the other.

This political polarization has led pro-labor Democrats to support anti-charter legislation while pro-business Republicans have fought to protect extant school operators and have resisted accountability measures that they perceived as anti-charter. True to form, in his first budget in 2007 – and again in his second budget in 2009 – Governor Strickland proposed legislation that would have banned for-profit charter operators, cut charter school funding, and buried the schools in costly regulations.

The long political struggle around charter schools has hurt charter school quality in the state, made it difficult for Ohio to improve its charter law, and retarded the power of charter schools to meet their potential. According to new state charter law rankings by the National Alliance for Public Charter Schools (NAPCS), Ohio's law now ranks number 27 out of 41 states with charter laws.

In contrast, the states with the best charter laws – Minnesota, Florida, Massachusetts, Colorado, and New York – have made steady improvements over the last few years through bipartisan legislative action. According to NAPCS, these improvements include both the removal of constraints on charters (e.g., lifting of charter caps and moratoriums) and the strengthening of charter school accountability. Florida, for example, made the biggest jump in 2010, moving from number 11 to number two. Florida's rating leapt because lawmakers there embraced quality control provisions that included adopting model charter school applications and requiring high-quality charter school application evaluation forms and performance-based charter contracts.

Republicans now control state government in Ohio and have promised to remove caps and moratoriums on charters. This is a good start, but removing barriers to new schools must be balanced by improvements to the state's charter quality control mechanisms. Ohio should build on the lessons from Florida and other high-performing charter states.

Specifically, Governor Kasich and legislative leaders can help promote charter school quality by crafting policies that ensure would-be school operators are carefully vetted in advance of opening; that all schools are thoroughly monitored by responsible authorities for their academic performance; and that poor performers exit the market in timely fashion.
Parental choice should be encouraged, but in tandem with rigorous accountability for results.

Failed schools should not be able to skirt academic accountability, whether they are traditional district schools, virtual charter schools, or charter schools operated by for-profit management companies or non-profit ones. The theories behind the school choice movement – that parents will vote with their feet and that the market will hold schools accountable – are imperfect and in reality all too often leave poorly performing schools in place. Parental choice should be encouraged, but in tandem with rigorous accountability for results.

The states with the best charter schools also have the strongest charter school laws. According to Peter C. Groff, president and CEO of the NAPCS "High-quality charter schools start with strong charter school laws. Our state charter law rankings describe how laws can ensure charter schools are able to innovate in ways that boost student achievement while being held to high standards of academic, fiscal, and operational performance."

For too long, charter schools have been a political battlefield on which powerful political interests have waged war. As such, charter quality has suffered and children who badly need better educational options have all too often bounced from troubled school to troubled school. Governor Kasich and Republican lawmakers should break the cycle of political acrimony around school choice. This means resisting the temptation – and the encouragement they will surely receive from some in the charter sector – to push for more charter schools while also scaling back on school accountability. This would be a grave mistake.

The challenge facing education reformers in Ohio isn't so much to add yet more school options, but to ensure that those available to families are in fact educationally sound. This is both the lesson from Ohio's rocky history with charter schools and the lesson from states with higher performing charter schools.
This op-ed previously appeared in the Columbus Dispatch and Cleveland Plain Dealer.
---
---
New legislative session kicks off with a bang -- several education bills on the table
By Jamie Davies O'Leary

It's been a while since Gadfly buzzed about legislative hearings or new bills, what with the past legislature renowned for its inactivity. But the new 129th General Assembly already has several education bills in the works, so expect Gadfly to be reporting on capital matters over the coming months.
HB 21 – Virtual charter schools, value-added data, and Teach For America graduates. Sponsored by Rep. Courtney Combs (R-Butler County), the bill is a recycled version of last year's HB 312 and SB 180 (legislation aiming to make Ohio more competitive for Race to the Top funds, and for which we testified in support). While SB 180 was passed by the Senate, neither bill made it anywhere in the House.
The basic components of the legislation are well-intentioned, but limited. HB 21 would:
Lift the ironclad moratorium on charter e-schools and replace it with a performance-based vetting process, which makes good policy sense. If a charter school authorizer wishes to open a new e-school, it must have a track record of authorizing success. Specifically, at least one of the charter schools it sponsors must be rated Continuous Improvement or higher. While this metric is imperfect (for example, if a sponsor has 10 schools rated D or F and only one rated C – that's not exactly "successful") it at least extends a performance-based cap to e-schools similar to what applies to new bricks-and-mortar charter schools while also opening the market to new virtual providers. This is a good thing as this is one of most innovative and rapidly expanding sectors in public education.
Require the use of student performance data in evaluating teachers and principals for licensure. For teachers in grades 4-8 and in reading and math, Ohio's value-added data will be the primary growth measure; for other teachers, a "standardized measure of improvement in student achievement" will be "designated by the superintendent of public instruction." While the sentiment behind this is right – teachers should be evaluated based on student growth – the bill also leaves in place many nonsensical requirements for various tiers of licensure, such as holding a master's degree. Stipulations to require student growth metrics in teacher evaluations should be part of a fresh teacher evaluation overhaul bill. Keep in mind that the Republican-controlled legislature can push for bolder changes to teacher evaluations; lawmakers don't need to stick with recycled legislative language from last session that, by virtue of Democratic control of the House, was palatable to both parties and therefore more vanilla.
Grant a professional educator license to alums of Teach For America - teachers who've successfully taught low-income students in another state (Ohio currently doesn't have a TFA site) and would like to teach here. While the 129th General Assembly should go much further and actually change alternative licensure rules to pave the way for alternative talent pathways like TFA to take root in Ohio, this small provision to let alums teach here is an excellent way to retain talent in low-income areas as well as to battle the state's brain drain.
HB 30 – School funding. Perhaps the most-talked-about education bill so far, HB 30, sponsored by Rep. Randy Gardner (R-Wood County), would eliminate significant requirements from HB 1 (Gov. Strickland's "evidence-based" funding model). Specifically, it abolishes of the School Funding Advisory Council, as well as universal all-day kindergarten mandates, requirements for school districts to create "family and civic engagement teams," and other reporting requirements. File this piece of legislation under both "least surprising" and "most convenient to cash-strapped school districts." Despite the fact that many district leaders expressed support for these components of the EBM in theory, they were viewed as unfunded mandates, and nothing troubles school leaders more than that ugly phrase.
HB 36 – Calamity days. Co-sponsored by Reps. Casey Kozlowski (R-Pierpont) and John Carey (R-Wellston), the bill would give back two calamity days to Ohio schools districts while also granting schools more authority to lengthen the school day to make up those missed days. Although giving flexibility to districts and schools to determine for themselves how to make up for lost time is commendable (let's see that kind of autonomy doled out elsewhere in K-12 education), upping excusable calamity days from three to five would be a bad move. We've argued before that Ohio's students simply can't afford lost instructional time; if anything, the Buckeye State should be moving in the opposite direction – to lengthen the instructional time available to students. No one's arguing that districts in the midst of a snowstorm can't cancel school, just that they should make up instructional time beyond three excused days. Rep. Carey said that justifications for the bill included "safety and financial concerns" (Gongwer News; subscription required) but excusing two extra calamity days does nothing to save money, as teachers and principals are still paid for missed days. If anything, it's wasteful budgeting and lost learning opportunities for children.
Changes to K-12 governance give Kasich major ed reform opportunity
By Emmy L. Partin
Education reform is moving fast in Ohio, and a sudden membership shuffle on the State Board of Education has given Governor Kasich the opportunity to ramp up the pace further, putting his imprint on the state's schools much faster than his predecessors.
The Ohio House will begin hearings this evening on several pieces of education legislation (see the article above), and the Senate is expected to follow suit next week. While Governor Kasich isn't likely to unveil his full education platform until he introduces his biennial budget proposal in mid-March, at minimum he is certain to dismantle the evidence-based school funding model, expand school choice options, and revamp Ohio's public sector collective bargaining laws, including those that affect local teacher and school employee unions.
But whether serious education reforms will be achieved (and sustained) depends on more than just the governor's and lawmakers' best ideas and intentions. Success also depends on how well the reforms are implemented, which in turn depends greatly on the governance structure and leadership of education at the state level. In other sectors of state government, the governor appoints agency heads and has fairly broad control over policy implementation. Education is a different beast altogether.
The Ohio Department of Education, responsible for implementing state education laws and policies, is technically independent from the governor. Instead, ODE and its chief, the state superintendent of public instruction, answer to the State Board of Education, a 19-member partially elected, partially appointed body. The complex arrangement is a compromise from the Voinovich era intended to at once give the governor some control over K-12 education while still buffering the sector from frequently changing political winds. The result is a messy and often times ineffective governance structure.
Governor Strickland agreed as much in 2008 when he announced his intent to appoint a "director of education" to serve on his cabinet and take on many of the responsibilities of the state superintendent and state board of education. The idea went nowhere but such a power grab isn't unprecedented. In 2007, Strickland made a similar move to gain more control over higher education. House Bill 2, which passed with broad bipartisan support, made the Chancellor of the Ohio Board of Regents a governor-appointed position and gave most of the power held by the board, which previously governed Ohio's system of public colleges and universities, to the Chancellor. The board was relegated to an advisory role. Few argue that arrangement hasn't served Ohio well. In other states, governors have made similar moves in K-12 education. Massachusetts' Governor Deval Patrick appointed a cabinet-level education secretary in 2008, and Washington's Governor Christine Gregoire is seeking to establish a similar position in the Evergreen State.
Coming off of November's election, most observers thought Kasich would need to make a similar move and put in place his own education "czar." This person would usurp power from a State Board of Education that was seen as hostile, or at best not receptive, to the sorts of education reform ideas coming from the governor-elect.
What a difference two months makes. Kasich now has a number of options when it comes to the optimal education governance arrangement for putting his reform plans into action.
Thanks to power politics in the Ohio Senate, Kasich found himself appointing members to the State Board of Education just a week after taking office. (In contrast, it wasn't till after two years in office that Governor Strickland could appoint enough members to get the board to his liking.) Now the governor has options beyond creating an "education czar," including:
With a Republican-led State Board of Education that appears largely in-line with him, Governor Kasich could leave the current governance structure in place, and even the current ODE leadership. The board holds sufficient power to exert pressure on Superintendent Deborah Delisle and her top staffers to help, rather than hinder, the governor's reform agenda.
Alternately, Governor Kasich and the board could make a bold move and replace the superintendent with an education reformer more obviously aligned with their agenda. If Kasich intends to bring in someone new, this arrangement is preferable to creating a new and separate education director position. A new superintendent could hit the ground running promoting and implementing reforms without having to first build up a new office and team the way an education director would, and could take advantage of current talent at the education department and the knowledge base those people bring.
If Kasich takes the latter option, could the Buckeye State be the next landing spot for one of the big names in education reform?
The (arguably) biggest name in the game, former DC Schools Chancellor Michelle Rhee, is off the table, having set up her Students First organization and indicating she doesn't intend to return to a superintendent position at any level. But what of other known reformers? Certainly any number of big-city district chiefs would view the top Ohio post as a great opportunity to move up to the next level. And might state chiefs who are feeling anti-reform pressure from their new governors, like Rhode Island Commissioner Deborah Gist, be interested in taking the helm in Ohio? Or might the governor turn to some of Ohio's better known reformers like Bart Anderson, who leads the Educational Service Center of Central Ohio, or Cincinnati Public Schools Superintendent Mary Ronan?
When it comes to education reform, Governor Kasich is in as strong a position as any modern Ohio governor. National reform momentum is converging on the Buckeye State, the GOP-led legislature seems eager to help the governor take on tough battles, and Kasich has the ability to exert more control early on over the state education system than any of his predecessors. There is real potential for him to make great strides and make Ohio a leader in education reform.
---
Geoffrey Canada speaks to Dayton community
By Jamie Davies O'Leary
Geoffrey Canada, president and CEO of the Harlem Children's Zone (HCZ), spoke at the University of Dayton last week as part of the university's diversity lecture series. (You can read Dayton Daily News' nice coverage of it here.) Fordham's hometown of Dayton is the perfect place to hear Canada's message. It's one of Ohio's poorest cities, and despite all of our efforts on the ground there, the city is a constant reminder of how tragically difficult it is to improve outcomes for poor kids. In Dayton Public Schools, over three fourths of kids attend a school rated D or F. No children go to a school rated Excellent.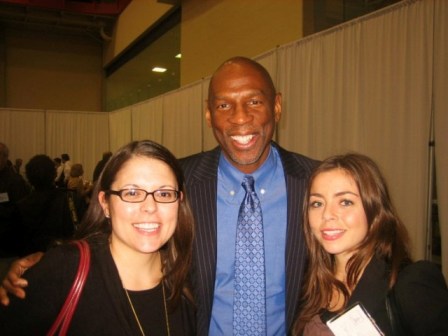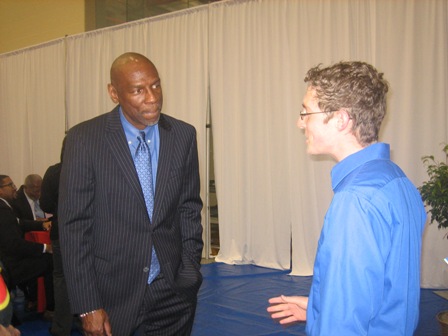 Canada's assessment for Dayton – and the nation – is right. Our communities simply can't afford to have so many young people unemployed (or in jail), especially African American boys. It's an issue of global competitiveness and our economic health, but more than that – a moral and spiritual imperative.
Beyond that, one piece of his message really stood out: here in Ohio, we've been busy for the past several years thinking about state-level policy issues that inhibit districts and schools from serving kids better, and pushing to lift roadblocks when it comes to reforming K-12 education. Now perhaps more than ever, the Buckeye State stands a chance at successfully rolling back senseless laws and requirements, and untying districts' hands so that they can pursue meaningful reforms. However, there still remains a gap between what state or local-level policy can achieve, and what it takes to actually exterminate achievement gaps. In that space resides a level of leadership, activism, and drive (that Canada embodies perfectly) that is both difficult to measure and hard to foster. It's not like you can just plant a Geoffrey Canada down in Dayton and other urban communities and wait for grassroots reform to grow.
As Canada described how HCZ's work unfolded, it was a good reminder of the role that local leadership and home-grown reform plays in K-12 transformation: "No one from the federal or state or whatever level of government was going to come in and fix it for us. We didn't ask permission; we just did it." The 21 Promise Neighborhoods across the US (winning federal grants to try to create similar "zones") will illustrate the extent to which the concept can be replicated.
Until then, Canada's words both inspire and cause slight anxiety: "Hope is as infectious as despair." That's true, but only comforting to a small degree because it's far easier to work in the realm of policies, legislative language, regulations, and rules than it is to deal with the more enigmatic aspects of the human spirit and translate these qualities into tangible improvements for kids. At the risk of sounding like a broken record, human capital matters enormously in strengthening communities – both drawing in talented individuals and keeping them. Even if Ohio can make great progress in changing policies/legislation, issues of human capital loom large and are integral to the state's long-term ability to help kids most in need. Kudos to Canada for the reminder.
---
Charter School Authorizers and Student Achievement
By Kathryn Mullen Upton
This working paper from the Center on Reinventing Public Education – as part of its National Charter School Research Project – examines the impact of charter school authorizers on student achievement. The paper focuses on Ohio, a state that allows a wide variety of entities – public school districts, educational service centers, 13 state universities and 501(c)(3) organizations that meet Ohio Department of Education (ODE) criteria – to authorize (aka, sponsor) charter schools.
Researchers collected longitudinally linked student-level data that spanned from 2004-05 through 2007-08 from ODE. The data were for elementary and middle grades only, and virtual/online charter schools (aka e-schools) were excluded from the study. The report found that when it comes to student achievement in both reading and math, charter schools that were originally authorized by nonprofits, on average, produced the least gains in student achievement, while district-authorized charters had the largest gains (though statistically insignificant). ESC-authorized and state-authorized charters were "statistically indistinguishable" from other charters in both subjects.
The authors note that these findings may reflect Ohio's ongoing struggle with how to grow and regulate the charter sector, with choice proponents often wishing to expand school choice for the sake of choice (with success defined by the diversity and number of options), and others (including Fordham) cautioning that choice must come with quality controls and a laser focus on performance. The report concludes – and we agree – that the structure of the authorizing entity is not the issue. Regardless of entity type, the key issue is whether the entity is effective at the work of charter school authorizing itself.
Assessing the Determinants and Implications of Teacher Layoffs
By Nick Joch
Add this credible and quantitative research to the growing list of reports finding seniority-based layoffs to be detrimental both to student learning and to the bottom line. From the CEDR, the report analyzes data on over 2,000 Washington state teachers who received reduction-in-force (RIF) notices during the 2008-2009 and 2009-2010 school years—primarily on a first hired, last fired model. It then compared these seniority-based layoffs to a number of proposed performance-based layoff models—each using a different metric for value-added. In a computer simulation, the seniority-based model caused student learning to lag by two to four months compared to a performance-based model, and under it African American students were 50 percent more likely to have their teachers laid off than were white students (compared to 20 percent more likely in the performance-based scenario). Further, the study found that performance-based layoffs would save up to 10 percent of the state's teacher workforce, as fewer tenured, higher-paid teachers would need to be pink-slipped to meet budget quotas. Many states, including Fordham's home state of Ohio, have laws that require all teacher layoffs to be based on seniority alone—laws that, in light of this study's findings, legislators would do well to cut.
Learning about Teaching: Initial Findings from the Measures of Effective Teaching Project
By Janie Scull
In the fall of 2009, the Gates Foundation commenced an epic task: the Measures of Effective Teaching (MET) project. Through thousands of hours of videotaped and live classroom observations, student and teacher surveys, and information on student achievement gains, foundation analysts labored to uncover the best indicators of teacher effectiveness, the goal being to craft systemic and reliable evaluation processes and feedback mechanisms for the future. The preliminary findings of this massive initiative are now available. And if they're a sign what's to come, teacher evaluations will be in for a major makeover. This preliminary report analyzes two of the project's five measures of teacher effectiveness—student scores (on both state and external tests) and student survey responses. There were four take-aways: First, a teacher's past success in producing student gains is highly predictive of that teacher's ability to do so again. Second, teachers who, according to their students, "teach to the test" do not produce the highest value-added scores for said students; rather, instructors who help their students understand math concepts and reading comprehension yield the highest scores. Third, student perceptions of their teachers are remarkably telling and remain stable across groups of students and across classes taught by the same teacher. Most reflective of teacher effectiveness is students' perceptions of whether their teacher controls the classroom and challenges them with rigorous work. The analysts end by noting that a combination of these methods provides teachers a more accurate, detailed, and targeted evaluation. These findings are just the beginning of MET. Check back in late spring for the final report—including analyses of classroom observations.
---
Groundhog Day event: Are Bad Schools Immortal?
Do you drive past low-performing schools and feel a bit like Billy Murray? Join Fordham and a crackerjack set of panelists on Groundhog Day, February 2, from 3:30 to 5:00PM, for a lively conversation on bad schools—and how they just don't ever seem to go away. Find out more information here, or RSVP here. The event will also be webcast live.
Click to view our event trailer
---
Flypaper's Finest
A selection of the finest offerings from Fordham's blog, Flypaper.
Powerful vignette for National School Choice Week
By Jamie Davies O'Leary
This weekend the Akron Beacon Journal highlighted parents who "cheat" to get their kids into preferred schools, lifting up the story of an Akron woman who faces criminal charges (and 10 days in jail) for putting her kids in a neighboring, better school. Regardless of your beliefs about school choice, doesn't a story like this make you pause? Read the full post here.
Official Race to the Top amendment rules... three months later
By Andrew Proctor
During Ohio's gubernatorial race former Governor Ted Strickland's campaign placed Race to the Top funding in the spotlight. Strickland asserted that Ohio's $400 million in RttT winnings could fall into jeopardy if John Kasich scrapped the "evidence-based" model of school funding. (We disagreed.) … Last week, Ohio's RttT funding came into question again in a blog by Meisha Headen, head of Ohio's Cleveland-based Democrats for Education Reform….. Luckily for Headen and others still wondering, the Obama Administration recently released guidelines for the RttT grant amendment process. Read the full post here.
---
School lunch special: Chicken a la... foam?
By Andrew Proctor and Nick Joch
---
Save the date: Two events on "doing more with less" in K-12 education -- March 14 & 15
If you're among the many concerned about Ohio's fiscal crisis and the impact it will have on K-12 education (which eats up 40 percent of state revenue), mark your calendars for March 14 or 15.
The Nord Family Foundation, Ohio Grantmakers Forum, and the Thomas B. Fordham Institute are assembling two public events in northern Ohio to help local education, business, and community leaders identify ways to think smart about cuts to school funding while staying focused on student achievement.
The first event will be held at Cleveland State University at 4:30 on March 14; the second will commence the morning of March 15 at Lorain County Community College at 8:30AM. Fordham President Chester E. Finn, Jr. will moderate both events, and both panel discussions will feature Nathan Levenson, co-founder of District and Community Partners and former superintendent of Arlington Public Schools in Massachusetts (where he led a financial and academic turnaround of the district); Steven Wilson, founder and president of the Ascend Learning charter management organization in NYC, who also served as a panelist during our September 2010 "Stretching the School Dollar" event; and Paolo De Maria, who will provide an Ohio-specific perspective drawn from his experience the former state education finance official, policy advisor to Governor Taft, and executive vice chancellor at the Ohio Board of Regents.
We look forward to seeing you there!